Cardboard Picasso is a member of the Better Business Bureau and is a high-end, online baseball card shop which buys, sells, and accepts trades for store credit on graded sports cards. We are very proud to feature one of the finest selections of certified sports memorabilia and professionally graded sports cards in the hobby. We offer a wide range of authentic, vintage baseball cards including rare T206, Bowman, Leaf, and Topps releases of Hall of Fame players such as Mickey Mantle, Jackie Robinson, Michael Jordan, Willie Mays, Honus Wagner, and more. In addition to vintage sports cards, we also offer an excellent selection of modern rookie cards featuring current stars such as Lebron James, Aaron Judge, Mike Trout, and more.

Unlike traditional sports memorabilia auction houses, you will never get outbid on an item, be required to wait 30 days for an auction to end, or pay a hefty "buyer's premium" on "won" items when you are buying sports collectibles from Cardboard Picasso. We offer competitive, transparent, "Buy it Now" pricing which includes complimentary shipping and insurance on graded sports cards. We also offer our customers a complimentary membership to our "Picasso Points" program which rewards loyal customers with coupons up to $200.

To find sports cards or memorabilia, visit one of the categories below or use our site search feature located in the top-right section of the site. You may search by player name, set name, team name, etc.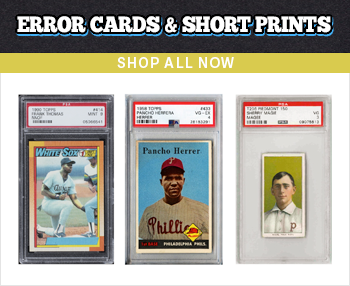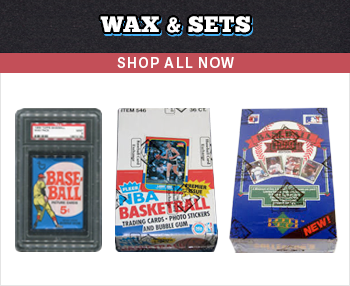 ---
---
"Cardboard Picasso is like the Nordstrom of vintage baseball cards. The cards are great quality and I've seen a good range of prices where I can buy something more in my price range or spend extra to get a card I've always wanted. Their customer service is great too! I will definitely purchase more cards with Cardboard Picasso and recommend them to other vintage card collectors." - Kristin H.
"Have worked with Steve on a few different early 50s bowman high grade cards and he is the best. I make payment and my card is at my doorstep in 3 days. Great selection good prices and he will even find cards for you. Will be longtime customer keep up great work. You will not be disappointed guaranteed." - Cornelius D.
" The quality of the service is the only thing that can top the quality of the cards offered from this seller. I received nothing but the best; great communication, prompt shipping, and great care for the buyer's experience. I highly recommend looking at their inventory." - Matthew L.